Avatars for the Internet
Darla
Optimized for the Internet, these actual screenshot closeups show Darla emoting as she gestures and converses while navigating atop the webpage of her favorite Corporate Sponsor.
Darla's Tale

Darla Schubert was born and raised just outside of Denton, TX where her family at one time operated a thriving cattle business. Darla currently works at Texas Instruments as a marketing manager, marketing manager for SASI, Small Appliances Sold over the Internet.

While in college, majoring in both business and marketing, Darla supported herself by working part-time in her Grandmother's small-town diner. During her fifth year of college she worked at TI as an intern, where her bubbly personality and zest for life caught the eye of a senior marketing manager who hired her full-time the day after she graduated. After two years of hard work, Darla worked her way into a junior management position.

Darla was married for a year, right out of college, but her husband's fast paced life as a gambler and monster truck driver often kept him on the road. Although independent herself, she grew impatient with such an unsettled lifestyle, so for now she lives in her grandmother's trailer with her 2 beagles and grandma's aged cat.

Darla is a sporty type. Growing up she liked to hunt and fish, and was an avid rodeo enthusiast during high school, winning numerous awards from barrel racing to hog tying. Currently she raises dogs and takes night classes in ballroom dancing, hoping to meet that special someone….


---
The Making of Darla


850 polygons: base head - 600, hair - 200, eyes - 50. Eventually interchangeable parts such as hairpeices, hats, and helmets will be implemented. Hidden Surface Removal will be invoked to delete underlying polygons. This would cull more than 100 polygons from the above base head.


The mesh was created in 3DSMax using Surface Tools. Once the splines are created, a parameter specifying the "patch topology" coursely controls the Level of Detail.

Morphs can be generated by carefully adjusting the underlying splines. This process is not very forgiving; by editing the splines you risk modifying the underlying topology. Immediately after creating a Morph Target, make sure that it has the same number of vertices as the source object, and that it Morphs in 3Dstudio.


Phomemes necessary for Speech - driven by our speech engine.
From left to right, top to bottom:
a/i, oo, ee, oh, mbp, ktdsl.


Emotional States may be determined by the User.
From left to right, top to bottom:
happy, sad, angry, suprise, laugh, wail, wink, blink.


---
Standards

Darla is modeled and animated to be H-anim compliant, an emerging standard adopted by both the VRML and Mpeg4 community.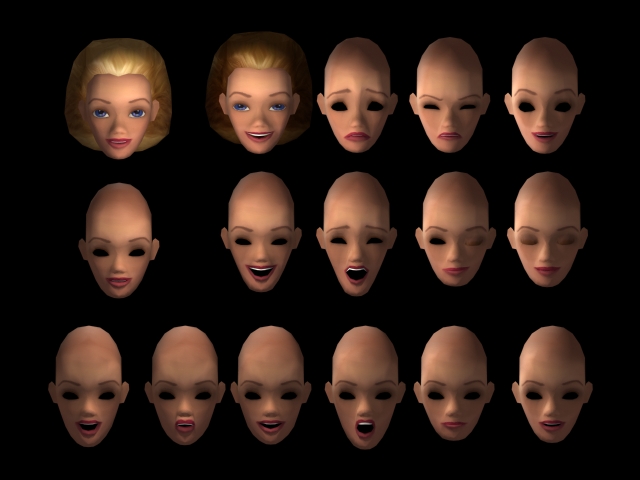 Entire Max File showing all 6 Phonemes (bottom) plus 8 Emotional / Autonomic States.
To be added - yawn.

Proposed Morph Targets and Naming Conventions


Phonemes:
p0_darla-neutral
p1_darla-ai
p2_darla-ee
p3_darla-kdtsl
p4_darla-mbp
p5_darla-oh
p6_darla-oo
p7_darla-w

Base Emotions:
e0_darla-neutral
e1_darla-happy
e2_darla-sad
e3_darla-angry
e4_darla-suprise

Additional Emotions:
e5_darla-laugh
e6_darla-wail
e7_darla-wink
e8_darla-yawn

Autonomic Behaviors:
a1_darla-blink

Naming Conventions within 3DStudio:
p1_
2 letter prefix designates type of data - speech, emotion, or autonomic.

darla-
Name of character. This could be limited to 6 characters if desireable.
By specifically naming the character this will ensure that this morph
position won't get confused with that of other characters during production.

neutral, ai, etc
A clear description of every morph position will prevent confusion.

Naming Conventions for the .wrl file:
This could be the same as the 3DStudio objects with the descriptions
stripped out.

p0_darla.wrl
p1_darla
p2_darla
p3_darla
p4_darla
p5_darla
p6_darla
e0_darla
e1_darla
e2_darla
e3_darla
e4_darla
e5_darla
e6_darla
e7_darla
e8_darla
a1_darla

end for now
---
Stasia McGehee
January 22, 1999
stasia_mcgehee@lionhearth.com