Andrea

H-Anim Compliant Continuous Mesh VRML Model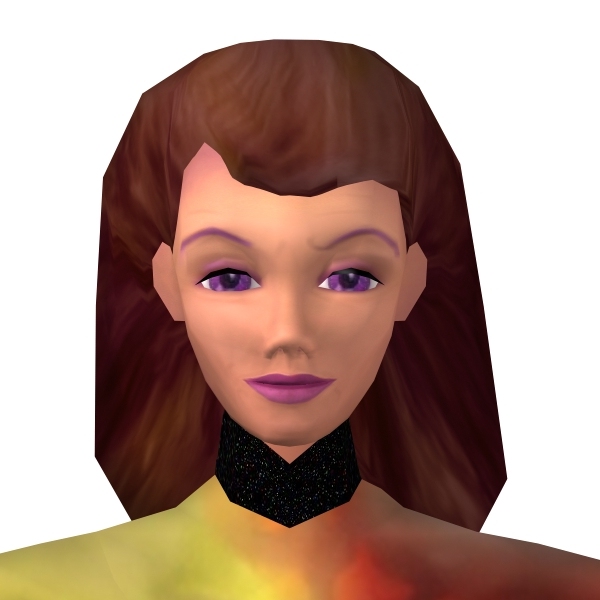 Base Model plus Textured Model in DaVinci Pose. Modeled in 3DStudio Max 2.5.
Textures created in Max and Photoshop using various Max plugins.
Andrea has 2700 polygons total.
---
Andrea's Morph Targets

Speech positions on the bottom row include Narrow, Wide, Lower, and Upper extremes.
---
The Continuous Mesh Body

I built these models using splines in Surface Tools, a plugin for 3DStudio Max 2.5.
Once you have built the splines, you can specify the Level of Detail, determined by the number of subdivisions between each control point. The models above have 320, 1280, and 4920 polygons. Note that each level of detail increases the poly count by a factor of 4. I will use the 1280 body for the avatar, and the 4920 poly model as reference for the final texture map in order to get more realistic shading.
---
Andrea's Story
Andrea grew up in San Francisco's Mission district. She was angst-ridden art student in her youth, producing works that were grotesquely figurative, carved from local hardwood.
Soon after she graduated she got a job at a foundry in Marin where she began to dabble in Metal Casting. But her real passion began when she first got a hold of a welding torch. It started out with tiny bits of metal, coils of bedspring fastened to old tin cans; sprockets and gears welded together in plant-like formations. Then she started doing larger pieces, salvaging scrap from nearby farmhouses, recycling centers, or dumps.
After a while, she got a grant, expanded her workspace, and began to produce installations of brushed steel, which can be seen gracing the fronts of several large corporations. Now highly successful, her work is often donated to charitable organizations to help promote fundraising events.
Tempermental by nature, with a penchant for the theatrical, Andrea's appearance will change with her mood. For a while she was elegantly bald, sporting translucent silky dresses with world-beat animal prints, accented by touches of black leather.

When younger, she often dabbled in the punk/grunge, then goth look, first sporting a grizzled mohawk, finally graduating to a flock of unkept raven locks that eventually went up into flames when ignited by a welding torch.

But such angst-ridden extravagance would be out of place for open-minded Marin county, where she has taken up residence with her patent attorney boyfriend. Inspired by the rolling hills and wide open spaces, she is devoted to her large metal installations, salvaging pieces of scrap from nearby farmhouses or recycling centers. On weekends she can be seen crawling through the local dump wearing boots and overalls.
---
Stasia McGehee
October 8th, 1999